Import Your AdWords Account Directly Into Bing Ads; Easy as 1, 2, 3
Whether you celebrate Christmas, Hanukkah, or you just like spending time with the family, this is such a wonderful season. The children are furiously ripping the colorful paper and bows from their boxes with wild fantasies of toys and games. Warm clothes will be had along with full bellies of treats and dinner. To avoid the polite look of a forced smile, many kids will be the receivers of multiple gift cards.
This season is not only for the children and families. Retailers are counting their winnings. A surprisingly high number of businesses are dependent upon the holiday season to make or break them. Some will fold in the first quarter of the year. Too much reliance on one channel creates steep competition with no outlet. The ones that chose to hedge their bets into multiple channels are likely the ones that thrived.
And that my friends, is just one more reason why Bing Ads, despite its considerably lower volume, should not be ignored. But Bing Ads know that they have not been so effective at growing the revenue streams from the Yahoo! and Microsoft partnership. But that's not your concern. There are simply not as many advertisers there. In the world of supply and demand, that means the holidays are joyous on Bing Ads.
What Bing Ads Is Not
Microsoft realized a few years ago that advertisers were not adapting to their new way of doing things. It was hurting their relationship with Yahoo! and their profits. So, they essentially gave up being innovators. They have worked very hard to become clones of Google AdWords. That also means that they are always behind AdWords, but give them time.
1) They are not innovators any longer. Most features on Bing Ads work almost the same as their AdWords counterparts, with a few important distinctions. Unless you're ready to learn about Bing Ads deeper, think of them as the same.
2) They don't have the same volume. Bing/Yahoo! controls roughly 26.6% of all Search, while Google controls 69%. Check the article below:
http://searchenginewatch.com/article/2345837/Google-Search-Engine-Market-Share-Nears-68
3) They barely exist in three different ways compared to Google:
Shopping: They have Product Extensions and Targets, but it's nowhere near what AdWords has.
YouTube: They don't have a video platform anywhere near what Google has.
Display: Their Contextual Network only supports text ads. It does exist, but the limitations on it make it harder to generate similar revenue streams from.
What Bing Ads Is
Quite simply, Bing Ads is primarily a way to expand the Search volume you are targeting with a somewhat different demographic. And their Bing Ads Import Tool is super easy to use. The cost-per-action is often frequently lower, although this varies by industry. Essentially, it is an outlet when you've begun maxing out some of your better keywords.
Creating the Bing Ads Account

Setting a Bing Ads account is fairly easy nowadays. You can either create a new email address from Hotmail or one of the other Microsoft properties, or you can now turn your own email address into a Microsoft Account. Same thing Google does. If you have a Bing Ads account already, you can merely sign-in with a user name here or your Microsoft email account here. While you're at it, now would be a good time to download the Bing Ads Editor. Unsurprisingly, it is modeled after the Google AdWords Editor.
The Browser Import Tool
There are actually two ways to do this. You can see from the screenshot below how to begin the browser version. It's selectable from the 'Import Campaigns' option in the upper right. I am going to walk you through the one in the Bing Ads Editor.

Bing Ads Editor
This section requires Bing Ads Editor. If you've haven't downloaded in the past, go ahead and get it from the earlier link. You've first be given a greeting, immediately followed by a sign-in screen. If you have a regular user name you may log in. If you're using a Microsoft account you'll need to click the link option in the screenshot below.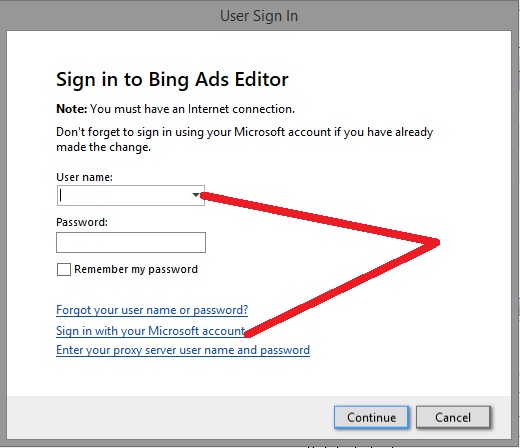 After signing in, the Editor will require you to choose an account to download. It doesn't matter if it's empty. Go ahead and choose the account you want to work on. After that is finished downloading, go ahead and select the Import Button from the screenshot below.

Upon clicking the Import button, you'll see a drop down list that asks 'From Google', 'From Yahoo!', 'From Bing', and 'From a custom spreadsheet. For the purpose of this blog, you'll want to select 'From Google'. If this is your first time importing, you'll need to sign into Google on the next screen, shown below. Then click Next.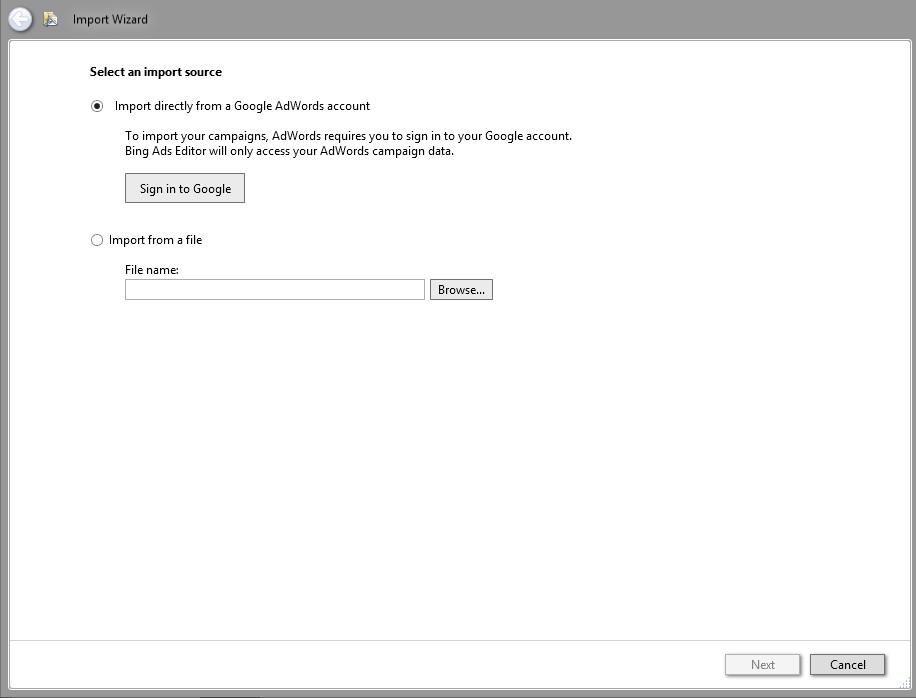 This will be followed by a list of all accounts accessible via that AdWords login. If that login accesses an MCC, you'll need to scroll through the list to find the appropriate account, select it, and click the Next button on that screen.
The following screen offers the option of importing all campaigns or deciding which campaigns you want to import. By selecting the option to choose, you'll see all of the AdWords campaigns available as shown in the screenshot below. Make your selections, and click the Next button.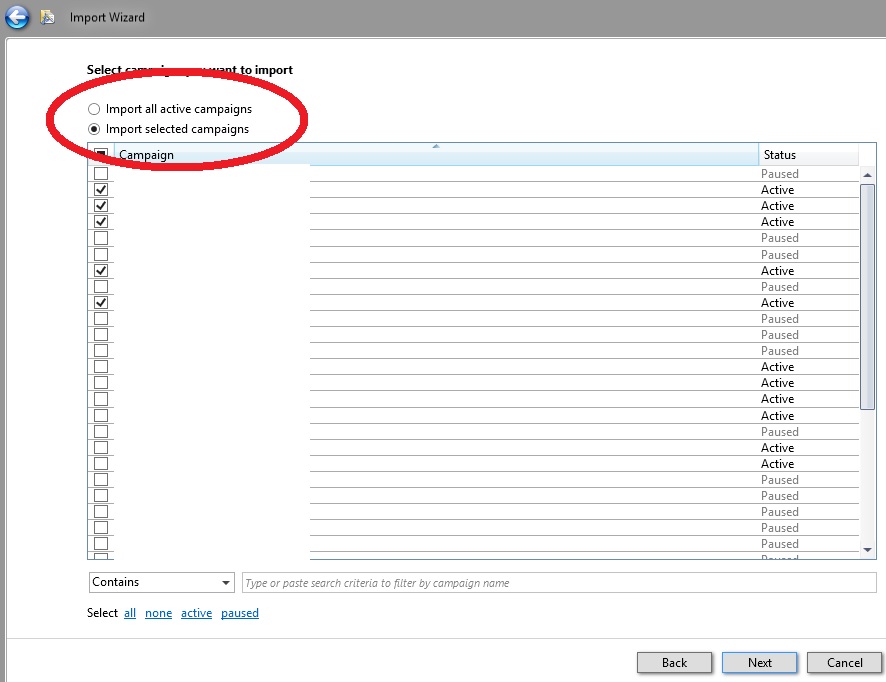 This next screen is filled with options. Delete campaigns and ad groups in Bing Ads that have been deleted from the source (e.g. Google AdWords) is one that I use almost every time. The important part to remember is that the import cannot handle this with keywords and ads. While your import will add keywords and ads, it can't get rid of old ones. You'll need to do that manually. I usually use most of the settings on the left, although it sometimes repeats my existing Ad Extensions and throws up an error. If you haven't changed those since the last build, you can opt not to change that. If you want a different budget than Google, also consider not using that. The settings on the right are mostly for manually tagging your URL's. If you're unfamiliar with that process, you can leave those blank. Lastly, there's the Bing Merchant Center option.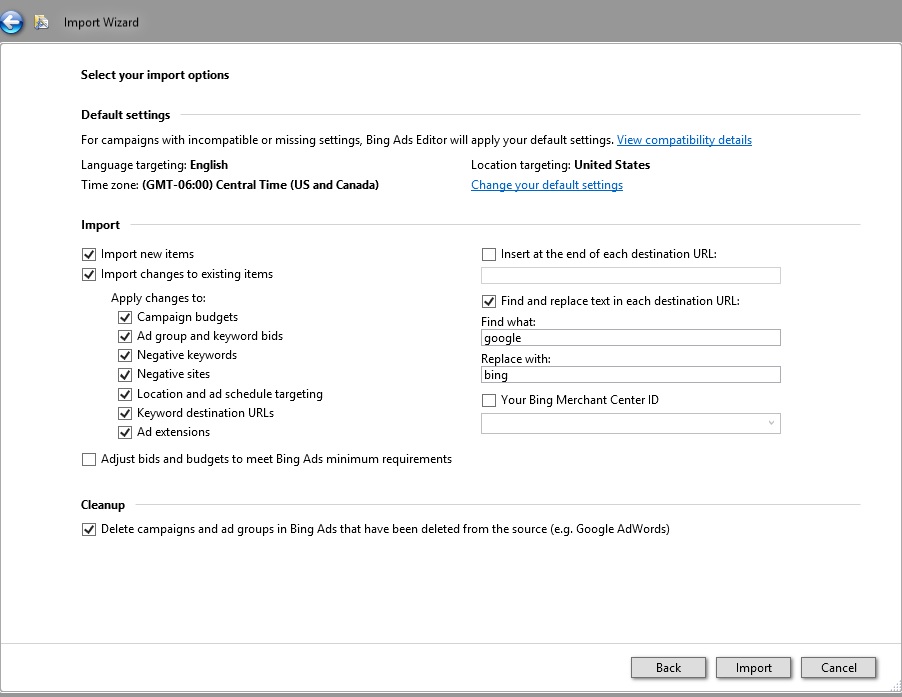 Finishing The Job
Click close on the following screen. You may find you have some errors, which you will need to resolve. Then click "Post Changes" at the top. Finally, you're done. There are occasional extra errors thrown after the post, which you can handle separately. If you get stuck, call the Bing Ads helpline @ 1-800-518-5689. Their customer service is usually very helpful. Don't forget to check the browser to make sure everything looks right.
Now, go make some money!