A few weeks ago, we began a three-part series on SEO API comparisons for link prospecting and research – between Moz's Mozscape, Majestic SEO's Site Explorer, and AHRefs, who has the best API? And how do you use them? First, we discussed how to use Majestic SEO's Open Site Explorer, and last week we discussed how to use AHRefs. I hope you're good at process of elimination. If not, that leaves us with…
Moz Open Site Explorer
Both Majestic SEO and AHRefs are great tools. Majestic SEO gives you a wealth of information that is great for accomplishing multiple tasks, but a good chunk of its data can be useless, and the tool can get overwhelming. AHRefs' data set is slightly more digestable, and pulls the data more quickly (about twice an hour). That being said, picking up on spam links can be more difficult.
And then, there's MOZ.
Both Majestic SEO and AHRefs tout a huge data set as their selling points. Majestic SEO contains information on over 4 trillion links, and AHRefs on over 1 trillion. Moz's data set is smaller. Their API claims that their data set contains 71 billion URLs.

Which, is like, still A LOT of URLs, but it's not 4 trillion.
But, you know how I keep saying that Majestic SEO's data set can be inaccurate, and that about 10% of what it spits out is total crap? MOZ is different. Though 71 billion is not as much as 4 trillion, it pulls the cream of the crop. While it isn't as all-encompassing, it also isn't as overwhelming, and there isn't as much crap to sort through.
Also, AHRefs updates its data set about twice an hour, but Moz's API only updates about twice a month. Therefore, you can't be as reactive with your link set if something happens. That being said, In March 2013, they released their "Just-Discovered Links" feature in beta, striving to close the gap between link discovery in AHRefs and Majestic SEO, and helping to find recently-created links. The Just-Discovered Links report indexes URLs within about one hour of being shared on Twitter, as well as the URLs linked from those tweeted pages (these URLs are marked "[No data]".)
Getting started with Moz Open Site Explorer
Loging into Moz prompts you to put in a URL. It doesn't give you options to select domain, subdomain or URL like Majestic SEO does, but if a link is being redirected (perhaps from non www to www, or no-ending-slash to ending slash) it will tell you and ask if you'd rather see the data for that URL instead. It also gives you the overall domain authority, as well as metrics for that individual page – page authority, how many domains link to the page, and total links (social data, including facebook shares and likes, tweets and Google +1s is available for paid users.)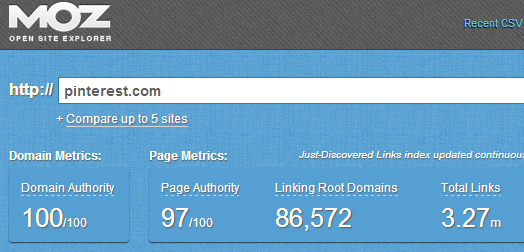 It then shows you your backlinks, sorted by Page Authority (which predicts the page's ranking potential in search engine results pages).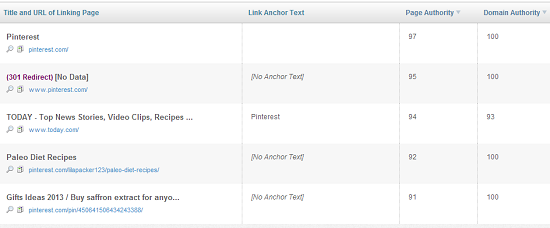 Also, Open Site Explorer displays the same information that Majestic SEO and AHRefs displays – that is Linking domains, anchor text, followed vs. no-followed links, inbound vs. outbound links, etc. But, Moz chooses to display their information via tabs; to me, it's less overwhelming, and puts more initial emphasis on the things that matters most – the links.
Here's an example of their "Anchor Text" tab: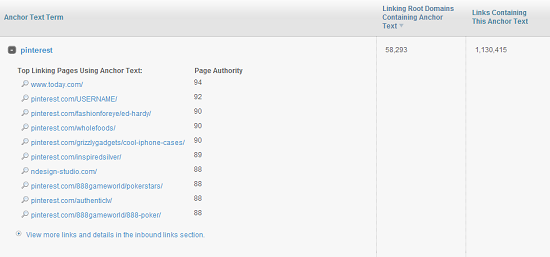 Moz not only shows you the most popular anchor text used to link to your site, it shows you a list of domains that link to you with that anchor text and their Page Authority. It also shows you the amount of links and domains containing this anchor text, making them easy to target. This also happens on the "Linking Domains" tab, and the "Compare Metrics" tab (speaking of, you can compare the metrics of up to 5 sites).
And there's Moz in a nutshell.
Moz Open Site Explorer Recap
Moz's API contains 71 billion links, compared to AHRefs' 1 trillion and Majestic SEO's 4 trillion.
That being said, it tends to give less spam and dead-end links. Report will be less "junk".
Data set updated less frequently than AHRefs and Majestic's. Moz is trying to combat this with the "Just-Discovered Links" tool.
Moz's data is organized in least overwhelming and easiest-to-understand way of all three tools.
Pricing
Moz's Open Site Explorer is free for 3 daily reports. However, they have a vast of other free tools, including GetListed (for local listings), Followerwonk (for Twitter metrics and analytics), and MozCast (to track day-to-day changes in Google rankings). Not to mention the vast majority of content on their site (including beginner SEO courses, Whiteboard Friday talks, and countless informative articles). Even when you don't PAY for Moz, you can still take advantage of a wealth of information.
A Moz paid subscription is definitely worth it, though. In addition to the tools already mentioned, you get the ability to track up to 5 campaigns, and access to even more tools, including a Keyword Difficulty tool (how easy/difficult it is to rank for a term), a Rank Tracker tool, and more. Plus, when you subscribe to Moz, it's like joining a vast community.
The smallest subscription level starts at $99/month, after a 30-day free trial.