Last week, we began a three-part series on SEO API comparisons for link prospecting and research – between Moz's Mozscape, Majestic SEO's Site Explorer, and AHRefs, who has the best API? And how do you use them? Last week, we discussed how to use Majestic SEO's Site Explorer. Today, we talk about…
AHRefs
Majestic SEO, which we reviewed last week, is a great tool; the wealth of information contained inside the tool is not only vast, but useful for multiple tasks: seeing not only a site's link profile, but taking a peek into their link history. That being said, a lot of the information given from Majestic can be useless. Not to mention overwhelming.
In comes AHRefs.
While Majestic SEO is beginning to feel dated, AHRefs is newer, presents its information in an interesting way, and uses some innovative crawling techniques. AHRefs is able to pull data from over 1 trillion data points; while Majestic SEO has over 4 trillion data points in its database, remember that Majestic may also be less accurate. One of AHRefs' biggest draws, however, is that its database updates more frequently than any other tool – 48 times a day, 7 days a week. This makes it a great tool for large SEO projects attempting to track a lot of links. If something happens, you can quickly asses what happened and react accordingly.
AHRefs also breaks the data about a site's links down in many easy-to-interpret ways: total number of links for a site (and the amount of historical links); how many IPs those came from; the anchor text of those links, and other ways.
Getting started with AHRefs
When you log into AHRefs, It prompts you to enter a link. After you enter said link, AHRefs gives you a WEALTH of information regarding the link.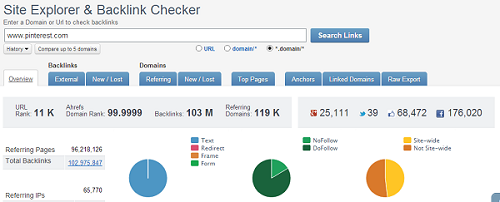 As you can see, just the "Overview" tab gives us the amount of backlinks, the number of referring domains, and even an estimate of social data. Then it goes a step further, and breaks it down into pie chart level.
It also gives you an idea of what your backlink profile looks like historically – Did links spike suddenly? Did you lose many links at once? Did you get hit by one of Google's algorithm updates? – the historic section could provide insight.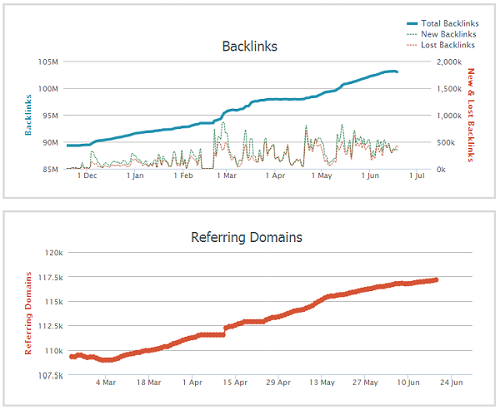 Backlinks
The Backlinks Tab shows your backlinks (obviously), but they're sorted in descending order by ALR rating (estimated number of visitors following that link per month). Therefore, it's much easier to determine the best links to go after for link acquisition.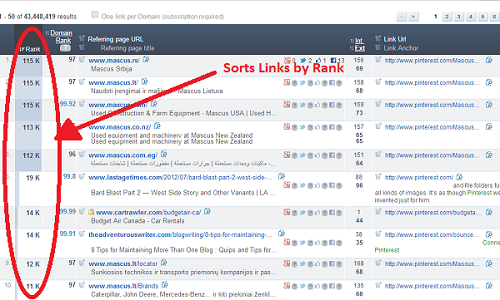 Multiple Language Support
Another one of AHRefs' major selling points is that it has support for multiple languages and top-level domains (TLDs); it supports multiple other languages besides English, and many other TLDs besides the usual .com, .org, .gov and .net, amounting to a database of over 50 million keywords, updated as often as its link database is (48 times a day, 7 days a week), and gets a complete update every 30 days.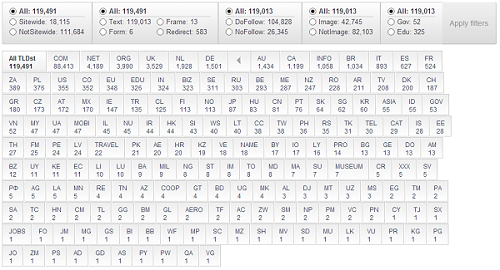 Most SEO Tools offer a site comparison tool, and AHRef's "Domain Comparison" does just that. As you can see, after using this tool, you can separate the sites that you just thought were your competitors from those that actually ARE your competitors, based on link profiles.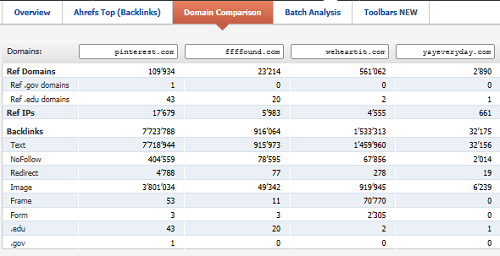 And that's AHRefs in a nutshell.
As a recap:
An immense data source – over 1 trillion links.
Database gets updated roughly every 30 minutes, 7 days a week.
Beautiful presentation of data, in whatever form you like.
That being said, it does have its weaknesses. As to not completely overwhelm you, AHRefs tends to favor higher-quality links. So picking up on spam and higher quality links that offer less traffic may be difficult. Also, although they offer a free version that's decently powerful on its own, the paid levels are the most expensive of the three tools reviewed.
Pricing
There is a free version, with limited functionality. The lowest paid plan starts at $79/month.
Check out AHRefs here.