This blog post was all set to go. I had thoroughly elaborated on 6 elements of PPC ad copy, with pictures for each. But one thing was missing: I was having writer's block and couldn't come up with an introduction.
I then thought back to Mr. Tomlinson's AP US History class in my junior year of high school (Go Klein Oak), and thought of his guidelines for writing introductory paragraphs for essays:
Start with a broad sentence.

(The universe is massive!)

Then follow with 1-2 more supporting sentences.

(Many galaxies, planets, and stars are contained with it. And under those stars, one one planet, lives one of the greatest creations ever: Matt Decuir.)

And then a thesis statement, enumerating the points you will make in your essay.

(Matt Decuir is one of the greatest creations ever because he's humble, he's the most witty and sarcastic person you'll meet, and because he said so.)
In the last 6 months that I've been at RankHammer learning paid search and Google Adwords, I've gathered that there are about 6 guidelines that an effective text ad in Adwords has.
The six elements to an writing effective PPC ad are:
Use of Keywords in the headline
Spelling out the Consumer Benefit/Offer
Ad copy and Landing Page synergy
Incorporating Brand Messaging
Use of You/Your
Effective Call to Action
And just like in Mr. Tomlinson's class, I use these guidelines to guide my PPC ad writing, and help me steer clear of writer's block.
Using Keywords in the Headline
Just like with SEO, and any other element of SEM, keywords are the basis of most everything in PPC. Keywords drive your research, which drives your ads, which drives your research. It's a continuous process of research and refinement.
Once you decide on a set of highly-relevant, tightly-themed keywords, include one of those keywords (or a very slight variation) in the headline of your PPC text ad. By doing so, you bring attention to your ad, and draw its relevance to what the person was originally searching for.
In regards to this client, a home furniture store, their keywords for this ad group revolved around mattresses, so the headline was "Mattresses For Sale".

Clearly Spelling the Benefit / Offer Out to Consumers
Even before you start an ad campaign, you should internally define your benefits to consumers. Why should they even care about you, especially if you're in a competitive industry? Once you can define your benefit to consumers, and why they should go with you over your competitors, you'll be able to communicate that in an ad.
With this client, they have many benefits that set them apart from their competitors – they offer no credit check, free layaway plans, and many financing plans, not to mention offering their furniture at discount. Of course, all of these benefits can't be talked about in a single ad. That's more ad copy than 2 lines of 35 characters each can handle!
For the copy of this particular ad, we decided to highlight the "No credit check" offer.

Synergy Between PPC Ad Copy and Landing Page
Always keep in mind that you don't have to always direct users to your website's home page. It's almost never the worst option, but in most cases there is a better landing page on the website to direct them to. Just like with this client, why use the home page as the landing page, on a mattress ad, when there is a mattress landing page to send them to.
Remember that you want to create the best experience for the user, so use a landing page that will best complete that goal. Creating the best user experience usually comes when your ad copy and the landing page work in sync, therefore resonating with your users.
When landing page / ad synergy happens, it results in a lower Cost Per Click, and a lower Cost Per Acquisition. It also results in higher Click-Through ratios, higher Quality scores, and ultimately higher conversions.

Incorporation of Brand Messaging
Just like there should be synergy between your ad and the landing page, there should also be synergy between your ad and your brand's messaging. For example, a discount furniture store may not want to use the same messaging as a luxury furniture chain, as the two customer segments tend to be different in their needs and wants.
The easiest want to create a feel of synergy is to use certain key phrases found in the website copy in your PPC ad copy.
In this instance, the client's website has phrases like "better sleep, better prices" and "the lowest prices on the best styles," since we mentioned above that their offer/message/core competency is lower prices than their competitors. I decided to take the "better sleep, better prices" phrase, and shorten it to "…BEST sleep at the BEST price" for two reasons:
Character Limits (35 characters per line)
"Best" sounds more assertive and more enticing than "better". The more dramatic you are, while staying in your brand messaging (and not lying), the better.

Using You/Your In Ads
You want to speak TO your customer, not AT them. This doesn't mean talking in your inside voice whilst you ramble on about how awesome you are. Many companies fall into the habit of only talking about themselves, product features and their product value, but they fail to communicate to customers how their product will benefit customers and provide value TO THEM. In this instance, I decided to take the "Best sleep at the best prices" and add "Your" to the front, speaking to the customer, and defining how a new mattress will benefit them (the BEST sleep), and the store's benefits (no credit check).

An Effective Call-To-Action
I could write a whole blog about calls-to-action. And I just might! Not now, though.
But not to get sidetracked, the most important part of a PPC ad IS the call-to-action. Writing an ad with the five elements above doesn't matter if people just read it, think "cool story bro" in their head, and do absolutely nothing. They won't necessarily click on your ad JUST because your ad is there – you must appeal to them in some way. You must drive them to perform an action.
Calls-to-action can come in many forms. Most calls-to-action are explicit. "Buy Now!" or "Buy today!"
Some are more implicit/implied, like "Shop today, sleep tonight".
Keep in mind that your call-to-action doesn't necessarily have to be at the end of your ad. Many times you'll determine that the end of the ad is the most appropriate place, but sometimes, it may make more sense to put it in the top line. Sometimes, it may make sense to put it in the header. Like with everything in online marketing, test many variations to see which convert the best for your business.
For example, in this ad, I used a quasi-implicit call-to-action in the bottom line. In this case, the call-to-action also restates the store's value offering:

Piecing It All Together
So when you piece all six of the elements for effective PPC ad copy together, you get something chaotically beautiful, like this: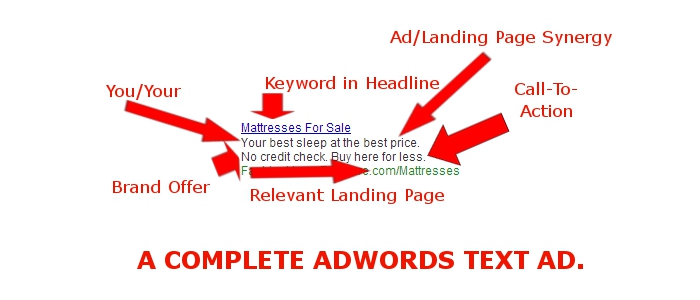 Of course, since these are like blocks, you can move the elements around in your ad copy to create new ads to test to see which ones convert best. Just as the call-to-action doesn't need to be at the end of the ad, your benefit (and keyword) can be in your headline, your brand messaging can be at the beginning, and you/your can even be at the end.
And like I've BEEN saying, test these ads, and test them often, to see which ones convert the best. And for ads that don't convert, you can go back to the drawing board, use these six elements as guidelines, avoid writer's block, and write some even better ads than the first go-around.